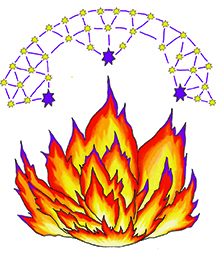 Light Connection
Light of the Divine with the Grace of Love
Imagine your life, MAGNIFIED!
What would your life look like if you had nothing holding you back? How would you walk through your day differently if everything you wished for was unfolding before your eyes? This can be true if you are willing to release whatever no longer serves you and let Light Connection™ do the rest.
This new form of healing works to clear, balance and align your energy body with your physical body. It delivers precisely what you need so you may achieve accelerated success in any area of your life that you desire.
Watch a 7 min. video of an Introduction to Light Connection
Light Connection™ is a healing modality transmitted directly to Amy Antonellis, Andrea Kukulka and Kristi Johnston on March 2, 2015 from a collective of Light Beings known to them as Great Spirit. It is offered not through the practitioners, but into the space they create and maintain for pure Light Energy to enter and produce change within the soul of the receiver.
Watch a 3 min video on how Light Connection Energy is delivered to you.
Clients have described feeling light, calm, clear, focused, and ready for what lies ahead. The energy is specific to this moment in your life, so as your life changes, so will future experiences with Light Connection™ . This is the kind of self-care and emotional healing that makes a lasting difference.
Now available in two forms! Light Connection Immersion and Light Connection Healing.
Light Connection Immersion pulls in life-changing energy so big, it takes 2 practitioners to sustain the vortex for a single individual's treatment. You will experience the benefits of expanded growth from this session for a minimum of 3 months! Make plans before your appointment for your life to move at an accelerated pace towards your intended goal.
Watch a 4 min video on what Light Connection Immersion can do for you.
It's time to heal yourself at the soul level!
Preparation for a Light Connection Immersion Session:
Watch a 4 min video on how to prepare for Light Connection Immersion.
Get absolutely clear about what you wish to magnify in your life. Then meditate and write about this.
Focus on positive goals i.e. I will be healthy and comfortable. instead of I won't have pain. or I will get rid of this ailment.
Drink plenty of water the day before your session to prepare your body for the filter that is Light Connection.
Take time off after your session. Surround yourself with things and activities that make you feel good. Avoid intense or negative situations or media.
Please note!! Light Connection™ will magnify whatever energy you have been emitting and continue to emit. Be mindful of where you focus your attention!
Light Connection Immersion is offered by 2 practitioners at a time.
*$220
*Allow approximately 45-55 min.
Light Connection Healing
This supercharged healing is performed with one practitioner and their energy partner in spirit to create and maintain the vortex of Source energy.
This will essentially burn away your subconscious resistance to change. The focus with Light Connection Healing is in replacing fear with empowerment and allowing you to clearly see your path forward.
If you're not quite ready for the magnitude of life changes that Light Connection Immersion will bring, but you'd still like to accelerate your growth, then Light Connection Healing is for you.
Watch a 2 min. video on Light Connection Healing
Light Connection Healing: One practitioner $150, Approximately 45 minutes.
***This healing will magnify what you are focused on! Spend time prior to your session focusing on the positive outcome you desire. For example "I want to move more freely and comfortably." instead of " I want to get rid of the pain in my body."